ABOUT US

We are located in south east Michigan. At Wolf's Den we have been raising pigs for over 50 years and mini pigs for over 25 years. Our family has been in the animal industry for more then five generations, that we know of. Therefore this is not just a part of our business, this is truly a part of our lives. I grew up engulfed in this way of life. Taught, with the help of the animals and my parents / siblings, to be straight forward, honest, caring, considerate of others, and respect for all living creatures.

We have some of the SMALLEST and CORRECT mini pigs in the USA. WE DO NOT HAVE OR RAISE Vietnamese POTBELLY PIGS. Our pigs are pure breed pigs that can be traced back to the first imported miniature pigs. We will cross bred, but will fully disclose who and can give you full linage for both parents.

All of our breeding stock are registered, pedigreed, vet checked and genetically tested. Our piglets are raised in our petting zoo from day one. We are double licensed, permitted, certified, and insured. We have between 4 and 8 facility inspections each year.

We raise three breeds of mini pigs.....some of the rarest in the world.....to date I am one of four quality, honest, and animal welfare oriented breeder in the USA to have true miniature pigs.

We are extremely busy, please EMAIL ONLY. Thanks!
WHAT IS A MINIATURE PIG?

Well, to answer that we need to go back to a little history.

Pigs in general, have and will remain to be a food source. Therefore the bigger we can breed or make them, the more they eat, the faster we can get them to grow, and the more docile and easy to handle the better for the market. This means they cost less to raise to market size and prices stay low for the general public.
In the 1980's small pigs were imported to the USA. These were miniatures compared to the USA's average market pig which weighs between 500 to 1000lbs and stands between 30 and 44" tall. The miniature pigs only weighed between 165 to 240lbs and stood between 18 and 22" tall.
Many people enjoyed these little pigs, including the research labs. They were a large driving force for breeders to produce a smaller, more manageable pig for research. While people who loved full size pigs wanted a smaller pig to have as a pet.

We strive to create a healthy, yet small pet that can bring a smile to any ones face. We work with the genetics and pride ourselves in each generation that we help along the way. However, no one can force genetics or be right about them 100% of the time. We can not guarantee the exact size or color of our piglets at adulthood, just as I can not guarantee the exact size of your child at adulthood. We can give you references of past piglets and a pretty good estimate on the size range. We can base this off our years of experience, past litters and piglets, previous pairings of pigs, and knowing the individual genetics of our breeding stock.
There is no fool proof way to exact perfection. Just because your mom was 5' 2" tall and your dad was 6'6" tall, how tall will their kids be? Well good luck on that, I can tell you there were 4 kids by these parents. But the possibility of a throw back should be considered. We can make a really good guess knowing the back ground of each parent and the genetics of their parents and grandparents. But if you end up with a child that is taller then both parents, but the same size as his great, great, great grand father, that does not mean his kids will be taller, and think about the mom, what new genetics will she throw in the pot? Throw backs are not bad, in fact they can be very helpful when breeding and outlining the genetic lines of each animal. Many desired traits can skip a generation or two, but knowing which ones and when can help in future breedings and knowing what to stay away from. This is where experience is priceless.




MINIATURE JULIANAS
- Occasionally they are mentioned as being mini juliani or mini painted pigs. This breed should always be spotted, BOTH parents must be spotted and have documented lineage, six excepted color patterns, pure breeds are very, very, very rare.

- They are one of the oldest breeds of pigs. The breed has been endangered many times. This breed is known for its mushroom hunting skills and have been breed and trained as research and rescue pigs. They were imported from Europe for the pet industry. We imported some of the very first Julianas into the USA. Please beware of cross bred animals, many times people who can not find or afford a breeding pair will cross bred with potbellies to try and get smaller more colorful pigs. ALL piglets in a litter as well as parents should be spotted....spotted all over the entire body!

- One of the best attributes to this breed is their temperament and personality. They have a dog like personality, very laid back and calm, easy going and gets along great with other animals and people, very social.

- Ours mature to about 12 to 26lbs. They generally stand a meer 8 to 10 inches tall and they range from about 11 to 14 inches long, minus the tail.

- Our Julianas have a very refined body structure. They are very sleek and slender. They have a straight back with a defined waist. Their nose is a medium length with a head that compliments their neck and blends nicely into their body. They are proportional all the way around.

- Colors include, silver with black spots, and rust with black spots are two common color patterns. More rare is white with black spots. A very hard color pattern to find and produce is red with black spots. The hardest by far to find and produce are the black with white spots and tri spotted colors. They can have brown, blue, green, or purple eyes.

- Prices are determined on a pig by pig basis. Each animal is different and possesses different qualities. Factors such as breed, sex, color, color pattern, size, temperament, personality, disposition, conformation, pedigree, and generation play a large roll. In general mini julianas are between $850 and $2500 for pets.




MICRO MINIATURE PIGS
- These are not potbellies, they are a breed onto themselves and have been for decades. They were created by the medical research companies not to market as pets, but to create a smaller swine model for their research. They have been a vital part of learning and benifital to gun shot and burn victims, diabetics, heart disease and transplants, dietary advances, and genetics. Many people who can not find or afford these pigs will cross them with potbellies to try and get a smaller pig, please be careful. Pure bred pigs are rare and hard to find.

- They possess a cat like personality, get along great with other animals and are awesome pets, somewhat vocal, mild mannered, yet can be opinionated, and easy to train.

- Ours mature to about 18 to 30lbs. They generally stand between 9 and 12 inches tall and they range from about 12 to 16 inches long.
- Our Micro Mini pigs are medium boned with a slightly swayed top line. They have a squared off nose of medium length. Their legs are shorter and they are more compact all the way around.
- Variety of colors available, our colors include, but are not limited to solid black, solid white, bluebacks, silver and white, solid silver, black and white, black and white pinto, chocolate, roan, solid red, red and white, red and white pinto, and rust. They can have brown, blue, green, or purple eyes.

- Prices are determined on a pig by pig basis. Each animal is different and possesses different qualities. Factors such as breed, sex, color, color pattern, size, temperament, personality, disposition, conformation, pedigree, and generation play a large roll. Generally micro minis are between $750 and $2000 for pets.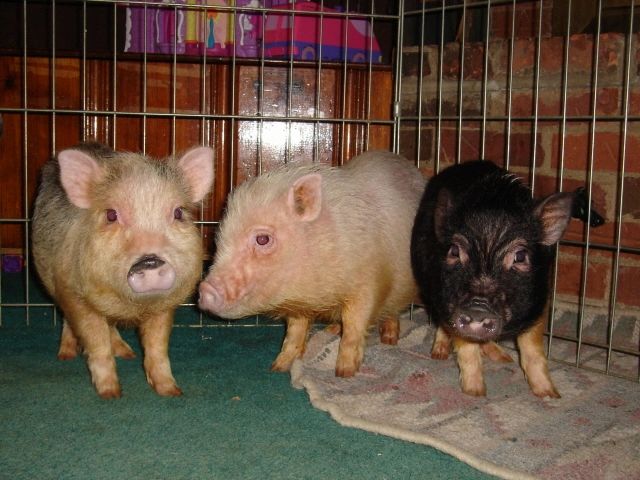 MINIATURE MULEFOOTS
- Relatively speaking this breed is fairly new. A few
dedicated breeders have been breeding this animals to a mini size and better temperament. Only a handful of people have ever seen, let alone have these pigs. They are extremely rare. The full size mulefoot hog is endanger of becoming extinct, it is a haritiage breed in the USA. We are still introducing new lines and colors to mold a well rounded pet pig.

- They come with pig like personality, more vocal, more opinionated, solid little power houses, very unique, and very hardy.

- Ours mature to about 20 to 35lbs with solid hooves. They stand between 12 and 14 inches tall and they range from about 14 to 18 inches long.
- Our Mini Mulefoots are slightly taller and longer with a well rounded mid section and longer neck. Their noses tend to be longer with a larger ear. They have solid hooves, like a donkey or mule, not cloven like a normal pig. We are working very hard to create a more compact, but well rounded proportional pig in a smaller package.
- They come in a few excepted colors and patterns so far. Solid black, black with golden highlights, black and white, chocolate, roan, solid white, bleuback, black and white pinto. They can have brown, blue, green, or purple eyes.

- Prices are determined on a pig by pig basis. Each animal is different and possesses different qualities. Factors such as breed, sex, color, color pattern, size, temperament, personality, disposition, conformation, pedigree, and generation play a large roll. Generally mini mulefoots are between $500 and $1500 for pets.



OUR PIGLETS
Our little piggies are brought into this world wanted and already loved. They are imprinted at birth and immediately looked after. They are born in our warm, dry, prepared home. By the time you receive your pig or piglet they have already mastered or are in the process of learning a few things. If you receive your piglet at 8 weeks or older they are potty trained, to either a litter box, outside potting, stall corner, or all of the above. Piglets are either harness training or trained. All piglets are well mannered for bathes, up to date on hoof care, vaccinations, deworming, vet checked, and fixed or come with a fix deposit. They will also be accustom to kids and travel as they will have been a part of our petting zoo.

All of our piglets are raised inside our home with their mothers. We have a huge room with their stalls or "rooms". As they get to be about a week old they start the rotation....two groups go outside for the day, two groups have access to part of the house, and two groups have access to the pig room and the other half of the house. They all go back to their stalls or litter boxes to potty and at night everyone is tucked into their stalls.
When purchased you will also get a mini pig care guide, health records, a contract, family pictures, a vet list, and any on going support you might need.
We keep very good records of our genetics so that we can match the best possible pig parents together. This process has gone on for more then 12 generations in most cases. We document genetics, size, color, temperament, personality, conformation, and weight.

We work very hard to create these extraordinary animals, we have the desire to assure that that they are going into the best situation with qualified owners. We do not believe any of the animals I have helped create deserves to be knowingly sold, either directly or to an agent, for purposes of pet shop, individual resale, wholesaling, retailing, mass production, rescues, sanctuaries, or for consumption. For that reason all of my animals that are sold, adopted, or placed in new homes are accompanied with an agreement that includes the stipulation : If for any reason you no longer want, or are unable to care for, or need to sell the animal(s), Wolf's Den is to be notified and offered the animal first.

PRICING
Our prices reflect our dedication to the pig, the breed, and what we are trying to achieve with the breed. We are trying to help nature create a well rounded, well behaved, inside pet, or outdoor pet, with few if any health problems, and a lovable charisma that people can enjoy. We keep the number of litters small so that we have time to devote to each individual piglet. The prices are determined by a few factors: breed, sex, color, color pattern, size, temperament, personality, disposition, conformation, pedigree, and generation.

We do not, and will not price piglets before they are born. Also, we will not, under any circumstances promise a specific piglet from a pair, a specific color, gender, size, or eye color. I am not making designer purses, we are not mass producing products, these are animals with their own genetic make up. I, as a breeder, can have educated guesses about what I "should" and "can" produce from past experience and prior pairings of pigs.

We try very hard to be on the high end of the market for these little wonders and produce the very best we can while staying on the low end of the pricing so that more people can enjoy the balls of happiness. Our prices are generally between $500 and $2500 for pets. Pedigrees, registration, and breeding rights are always available for an additional fee. That fee is determined by the individual animal and its ability to pass on desired traits. Pedigrees came with breeding rights and range from $2000 to $4000. Registration is separate and is anywhere from $2000 to $4000.

It is very important that you do your own research and have your own opinions, ideas, and education about miniature pigs. Many people, including some breeders, will try to take advantage of you. Ask questions and be open to new ideas
and animal evolutions, but have a basic understanding of what you want and need in a pet or breeding animal. People who are asking thousands of dollars for a pet, so called mini pig are most likely trying to do the same thing that people asking fifty dollars for a so called mini pig.....scam you.....please be careful. You get what you pay for.......

We except cash, money orders, paypal (add 4%), and personal checks. Any form of payment that is returned for non sufficient funds or not excepted by our bank is subject to a $100 fee. Buyer is to be held liable for any legal costs which may arise under the terms of our contract(s). This includes, but is not limited to, any court costs and or any attorney fees associated with the seller enforcing the terms of our contract(s) or defending the terms of our contract(s).
OUR GAURENTEE
We feel confident in offering our guarantee that we will not misrepresent ourselves or our pigs. We assure you that we will tell you the truth, good, bad, or ugly. If you ask us our opinion, we will give it to you. We shoot straight from the hip and our handshake still means something. We want the best homes and lives for our precious piggies, therefore we do not want to jeopardize that possibility in any way. We also reserve the right to determine when and to whom our piggies go to. Therefore we will reject requests for our piggies if the situation does not appear to be a good match for our pigs. Our hope is that we will only place our pigs once in their life time.
OUR BREEDING PROGRAM
Here at Wolf's Den we believe in natural breeding. Therefore we select our breeding groups and let nature take its course. With that said we can only give you estimates on litter due dates. We do vet check and pregnancy test our sows once we believe them to be bred. They also receive special care and feed while they are pregnant.

We plan on litters in mid to late spring, mid summer, and mid fall if needed. We breed according to interest, demand, health, and the age of our breeding stock. Therefore if the demand is high enough to place all piglets expected in a litter, we will breed out of season.
We primarily breed to have enough piglets throughout the year for our petting zoo and to fill our waiting list orders.

We only breed our pigs after they have cleared a full vet check, blood work, genetic testing, fecal check, have completed a full spectrum of vaccines, and are over 2 years old. Please be weary of people who breed very young pigs and claim they are full grown or just very small. Health problems and genetic problems are major concerns with breeding pigs that are too young or too small.

We only breed our sows once a year and many times will let them have a year off. Be very weary of people forcing their pigs to breed and have litters two, three, or four times a year!

All of our piggies, whether personal pets or breeding stock, are kept happy and healthy. We believe that well rounded animals with good strong genetics produce some of the best offspring. Pictures and possibly even visits with past offspring may be available. We often keep a piglet out of two litters each year to monitor that our goals are being meet. We vaccinate our breeding stock throughly and insist on yearly vet checks.

We believe in education and continuing education. We go to lectures, attend meetings, and are highly involved with the health, mental well being, sanitation, breeding, weaning, and training of our mini pigs. Both the agricultural managements and veterinary protocol and management standards combined to produce our outline for our gold standard. Our education and care of our entire program is updated at every opportunity and every year. We are at the head of the class with current and future break throughs with medical and husbandry ideals.

Our pigs are breeding pigs and are kept on the heaver side to help produce good, healthy, strong babies, with easier births. It is hard work and takes a lot out of them. Our piglets will be smaller then the parents, especially if spayed or neutered before 4 months of age. We have pictures and pigs on site to show you of our past piglets currently.
We have goals for our pigs and for our breeding program. We want to encourage nature to help us mold a well rounded, physically, and mentally, small pig. This is not easy, but we are committed to the health first, the conformation second, the size third, and the color fourth. We pride ourselves in the management and care that we provide our pigs and the ethical practices we don't just follow, we live by.
We take the time to let our pigs mature, we take time to choose the breeding pairs very carefully, we take time to allow natural breeding, we take the time to allow happy healthy piglets to wean when they are ready to, and we take the time to let our sows fully recover from her last liter before she is even thought of for another litter the following year. We have no interest on risking any of our piggies by trying to speed up this process. It has taken years for us to perfect and we have no interest in putting a wrench in a well oiled, wonderfully functioning machine.

STUD SERVICE
We also offer stud service from our boars to a select few each year. We carry some of the best lines in miniature pigs in the USA and are very happy to promote our wonderful genetics. Without opening up with other breeders and outside animals our genetic pool would become hazardous to the health and well being of the animals we are trying to help. We have a very lengthy stud contract and it takes about thirty days to be cleared and gather all the information. Our stud fee is determined by the boar and his quality, breeding history, pedigree, conformation, size, temperament and over all disposition. We try very hard to pass good genetics along with great attitudes, and huge personalities.

BREEDING STOCK
As we are concerned with promoting the breeds we raise and the pigs themselves, not cornering the mini pig market. We also encourage introducing new lines to both our and other breeding programs to help the breed stay genetically sound. Therefore we have no problem selling future breeding stock or current breeding stock. Pedigrees, registration, and breeding rights are always available for an additional fee. That fee is determined by the individual animal and its ability to pass on desired traits. Pedigrees came with breeding rights and range from $2000 to $4000. Registration is separate and is anywhere from $2000 to $4000.



MINI JULIANAS

WD's DB Brewno - boar, silver and rust with black spots

WD's NE Tango - boar, red with black spots

WD's OS Magic - boar, white with black spots and one blue eyes
WD's NE Mr. DF - steel gray with black spots
WD's NE Mr. Jinkins - boar, tri color

WD's TM Poblo - boar, white with black spots and one blue eye

WD's OS Truffle - sow, brown/red w/ blk spots, white blaze (tri color)

WD's OE Matilda - sow, white with black spots

WD's NE Rainbow - tri colored with black spots

WD's DB Treasure - sow, silver with black spots

WD's OE Wilameana - sow, bright silver with black spots

WD's DB Constance - sow, tri colored with black spots
WD's OE Chara-Kal - sow, black with white spots

WD's NE Flame - sow, red with black spots
WD's NE Gypsy - sow, white with black spots
WD's NE Razzle - gilt, red with black spots

WD's NS Serenity - gilt, tri color with black spots
WD's WJ Whimsical - gilt, dark silver and rust with black spots

WD's CB Pippa - silver with black spots

WD's CB Raffle - silver with black spots

WD's TM Mini Bell - bright silver with black spots and one blue eye

MICRO MINIS

WD's NE Acat - boar, white with blue eyes
WD's NE Dexter - boar, black and white with blue eyes

WD's BO Apearso - boar, red rust and white

WD's OS Star - sow, black and white pinto

WD's ST Starlite - sow, blueback with light blue eyes

WD's ST Daffy - sow, black with white legs

WD's ST Alfie - sow, black and white pinto
WD's NE Dixie - sow, black
WD's NS Dutchess - gilt, black and white
WD's NS Gidget - gilt, silver and white

WD's ST Pollywally - gilt, white with two blue eyes

MINI MULEFOOTS

WD's OS Muler II - boar, blue roan
WD's OS Image - sow, black with a white face

WD's OS Bold - sow, solid black

WD's OE Madlin - sow, solid black
WD's BM Popsicle - sow, rust
WD's BM Oreo - sow, half black and half white
WD's MM Prism - sow, black

CROSS BREEDS
WD's OE Pokadot - sow, 1/4 mulefoot and 3/4 juliana, black with white spots

WD's Ns Ivy - sow, 1/4 micro mini and 3/4 juliana, white with tan patches and black spots